Prioritized Daily Task List
Fri, 02/18/2011 - 08:00 — Claarity
In Outlook, I want to be able to see the tasks I need to execute today listed in execution order (eg, do #1 first, do #2 second....). This gives me focus and direction during my day - I know exactly what to do next. I am speaking about the classic FC ABC/123 view
How would you suggest doing this, or at least getting close?
I have used the Franklin Covey addin for Outlook that gives the Prioritized Daily Task List view based on abc/123. As well, their "home" html page is excellent in its presentation of todo's, email and calendar. It would be great if this page could be used as the Outlook view.
When I have both add-ins in outlook, I can get the FC home page up, but the tasks don't seem to work quite right in terms of status and even which day they appear on. So I am concerned that this may messed something up behind the scenes.
Thoughts? Thanks!
Yaacov Sternbach
Microsoft Outlook Add-In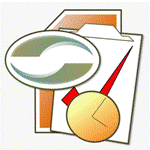 Achieve greater focus by shifting your attention from e-mail to accomplishing what matters most!
Company News
Stay up to date with our newsletter!