Blogs
Mon, 04/23/2007 - 08:22 — Chris
The talk on Friday went well - everyone seemed engaged. There were a number of questions:
1) How do you make these type of efforts sustainable?
Ans: We all have suffered from the 'flavor of the month' program and are quite aware of the pitfalls that lie ahead of us in championing these types efforts. Some of the ways that were talked about include:
Recent Updates
Microsoft Outlook Add-In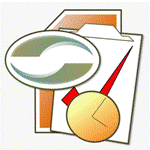 Achieve greater focus by shifting your attention from e-mail to accomplishing what matters most!
Company News
Stay up to date with our newsletter!