ASQ LED Webinar: Training Within Industry (TWI) - How to Make Standards Stick!
Thu, 05/16/2013 - 13:40 — Chris

I recently had the opportunity to deliver a webinar for the ASQ Lean Enterprise Division (May 2013). We talked about how to leverage the Training Within Industry (TWI) methods for reinforcing Standard Work.
I've linked the Webinar presentation and will post the webinar video when it becomes available. To download the slides - you will need to be logged in. The account is free to set up - and you get access to other great articles and downloads.
Thank you to all that participated and the great questions we had!
2013-06-09: UPDATE - the webinar video is now posted here, log in to get access to the video. It's also posted on our YouTube channel under Chris Lindstrom.
Recent Updates
Microsoft Outlook Add-In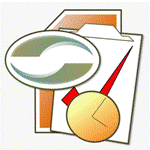 Achieve greater focus by shifting your attention from e-mail to accomplishing what matters most!
Company News
Stay up to date with our newsletter!