Business Planning Template for a Start Up Business
Tue, 08/11/2009 - 09:41 — Chris
The real value in creating a business plan is not the plan itself, but rather the journey of creating it. The act of planning your business requires you to first create it in your mind (while it's still cheap) before spending a single dollar. It facilitates a thorough thought process in considering facts such as, potential market, start up costs, and execution processes. And proactively considers questions such as, who are my customers, what are my marketing channels, do I need partners, what are my products and services, how do I explain them to my customers, how will I organize, what structure should I use to go into business, to name a few.
My favorite tool to help consider these questions and others is the "Business Plan Template for a Start Up". Please feel free to use this template as your springboard to a successful and enduring business.
Disclaimer: We did not author this plan, it came via a class from Edmonds College in Washington. It has no copyright or markings for original authorship, if anyone recognizes the work, please feel free to let me know so that I can appropriately give you credit.
Recent Updates
Microsoft Outlook Add-In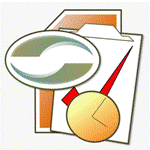 Achieve greater focus by shifting your attention from e-mail to accomplishing what matters most!
Company News
Stay up to date with our newsletter!