My Lean Office
Description
Successful teams are enabled by highly motivated and self-managing individuals. Everyone can develop the skills necessary to be successful by clearly defining and aligning their goals, practicing simple organizational habits, and focusing on action execution.
In the eight (8) hour My Lean Office workshop, the participants learn to identify, clarify and align their goals, understand how to make decisions based on their goals, define their work processes and discover how to work collaboratively with their upstream suppliers and downstream customers. Through instruction and exercises the student learns how to organize their physical and digital workspaces to efficiently and effectively execute and manage the daily demands on their time. The students learn a few simple Lean tools, such as; PDCA, KPIs, SIPOC, 5S, 5Ds, maximizing flow, waste identification (TIMWOOUD) and simple improvement methods such as DIG and KATA.
Learning Objectives
Participants will learn how to improve their organizational skills to better perform their responsibilities by understanding and aligning their work to their goals, better manage their daily action to more effectively achieve their tasks, and stay organized to reduce waste and increase focus.
Ability to define my goals and align them to the organization
Understand and utilize my high level key performance indicators to drive the 'right' decisions.
Define and organize my work into processes
Identify and understand my immediate customers
Organize my work product and work space to most efficiently execute my work (processes)
Maintain my new organization while effectively managing my daily demand
Learn how to use email to track and drive action for closed loop conversations
Effectively delegate work and create management processes for driving accountability
Become a better planner by making commitments, tracking effort and learning how long work really takes.
Knowledge Areas Covered
Goal Creation and Alignment
High Level Key Performance Indicators (KPIs)
SIPOC, 5S, TIMWOOUD, DIG
My Processes (my inputs, outputs and customers)
Get Organized (my projects, documents and workspace)
Stay Organized (email etiquette & processing, and weekly & daily planning)
Email Tracking
Delegation
My Execution Ritual (Time tracking, my KPIs, my management ritual)
Define waste and value/non-value added
Dynamic Idea Generation (DIG) Improvements
Compare your skills by taking our Lean Office diagnostics survey.
Audience
Busy individuals interested in better understanding why they make decisions about how they spend their time and what they can do to become more efficient.
Course Cap
16 participants
Required and Supplementary Student Materials
Required - a Student Handbook, provided. Look Inside!
Optional - Getting Things Done, by David Allen
Course Outline
Part One
Mindset

Toyota Production System - 14 Principles
Personal Accountability

Align the Plan

TPS Goals - as applied in the Office
What is a goal
Articulating a goal (MARST)

Standard Way

Define my Work (SIPOC)
Question the Work (Value Added, Muda)
Measure the Work (Metric Dimensions, Big Ys, Critical Xs, TAKT Time)

Homework: Define my goals, Define my top processes
Part Two
Maximize Flow

Goal Deployment (Projects & Processes)
Process Flow (Process Currency, Kanban)
Physical Layout (5S, Sequencing, Spaghetti Charts)
Information Model (Goals -> Projects -> Tasks -> Appointments -> Drawer)
Email Flow (Etiquette, 5Ds, Delegation)

Problem Solving

PDCA Problem Solving
Find the Root Cause (5Ys, CAPA)
Improvement as a Habit (KATA)

Managing Change

Personal Change Model
Mental Strength
Driving Change

Summarize and Conclude
Sign Up
Ceptara provides this program to organizations as part of their internal training courses or as a standalone program. Learn more and Request a FREE Quote...
Recent Updates
Microsoft Outlook Add-In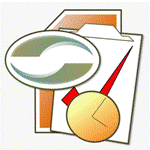 Achieve greater focus by shifting your attention from e-mail to accomplishing what matters most!
Company News
Stay up to date with our newsletter!